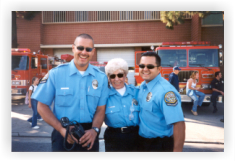 Mission
The quality of neighborhood life, its safety and welfare comes from the commitment of each of its citizens. Members of the volunteer grogram are given responsibilities, both internally and community wide, which will require them to achieve a high level of public trust, earned only by their acts of professionalism. To assist the police department in any way that increases the effectiveness of service to its citizens. The most often reason given for wanting to be a volunteer is "To give something back to my city." Through events open to the public, the volunteers help the community understanding how our department works and the commitment to its citizens.
Selection
Prospective volunteers are selected after passing an oral interview, a background check, and a positive assessment of their suitability for the various duties they will be asked to perform, including a driving skill test. To become a volunteer you must be 21 years or older with no felony convictions.

Program History
The Gardena Police Dept Volunteer Program began in 1991, when three senior citizens asked if there was anything they could do to help. Organized classes began in 1997 and have continued each year. To date we have over 30 volunteers actively working in our department. Three of our volunteers are Pastor from local churches. The volunteers are asked to work 16 hours a month. Many do more than required. What our volunteers bring with them is their experience, knowledge and friendship.
Duties
The Community Volunteers do observation rides through out the city, reporting graffiti, abandoned shopping carts, nuisance abatement, residential check, business checks, park and school checks, traffic control assistance, sign removal, victims and witness assistance assisting in crime resistance programs, community policing and much more.
The Internal Volunteers do filing, data entry, Microfilming, temporary childcare, front counter assistance, shredding, foreign language interpreter, monitoring Officer testing, GREAT Program at the middle school and misc. other duties.

Recruitment
The Gardena Police Department is actively recruiting volunteers for our next class. To receive an application, you can download the Word document below, come to the police station at 1718 W. 162nd Street or call (310) 217-6141 and leave your name, address and phone number, and an application will be sent to you
Click here for a Volunteer Application