HONOR GUARD
The Police Department Honor Guard is a specialized detail comprised of sworn officers and a supervisor. This detail represents the Gardena Police Department at a variety of ceremonial events, including Police Officer Memorials, Award Ceremonies, and government activities requiring the "presentation and posting of colors".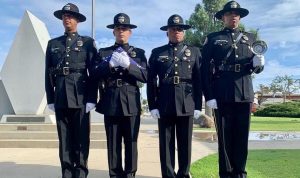 MISSION STATEMENT
"SERVICE WITH PRIDE AND PROFESSIONALISM"
We, the members of the Gardena Police Department, are committed to providing ethical, quality and responsive service to the community with pride and professionalism. We are committed to improving the quality of life for those we serve by delivering the highest standard of police services.