CHIEF's MESSAGE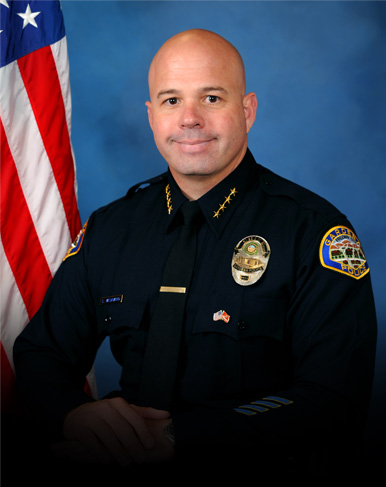 Welcome to Gardena Police Department Online. I feel extremely privileged to be the Chief of Police for the City of Gardena, and to lead a Police Department whose employees are devoted to public service and improving public safety with such a high level of pride and professionalism.
The Police Department is extremely proud of its history of positive interaction and support from the community we serve. It is only through enhancing our "COMMUNITY-POLICE PARTNERSHIPS" that we can build mutual understanding and trust while improving the safety and quality of life for those who live, work and play in Gardena.
It is my hope that you will enjoy your visit to our website, and that it provides you with improved access to the many services provided by our organization and a better understanding of the Gardena Police Department.
Sincerely,
EDWARD MEDRANO
Chief of Police
CONTACT THE CHIEF
Welcome to the Gardena Police Department Citizen Comment Forum. As the Chief of Police, I want to provide the Gardena residents a place to communicate their acknowledgement of positive service, questions, comments, and concerns with me directly. You can therefore email me at Chief@GardenaPD.org. Please know that I take your feedback very seriously. We will utilize all the information you provide to me to make Gardena a safer place to live, work, and play. Rest assured that I will review every email and personally respond within three to five business days. Thank you again for your comments.
Sincerely,CHIEF EDWARD MEDRANO